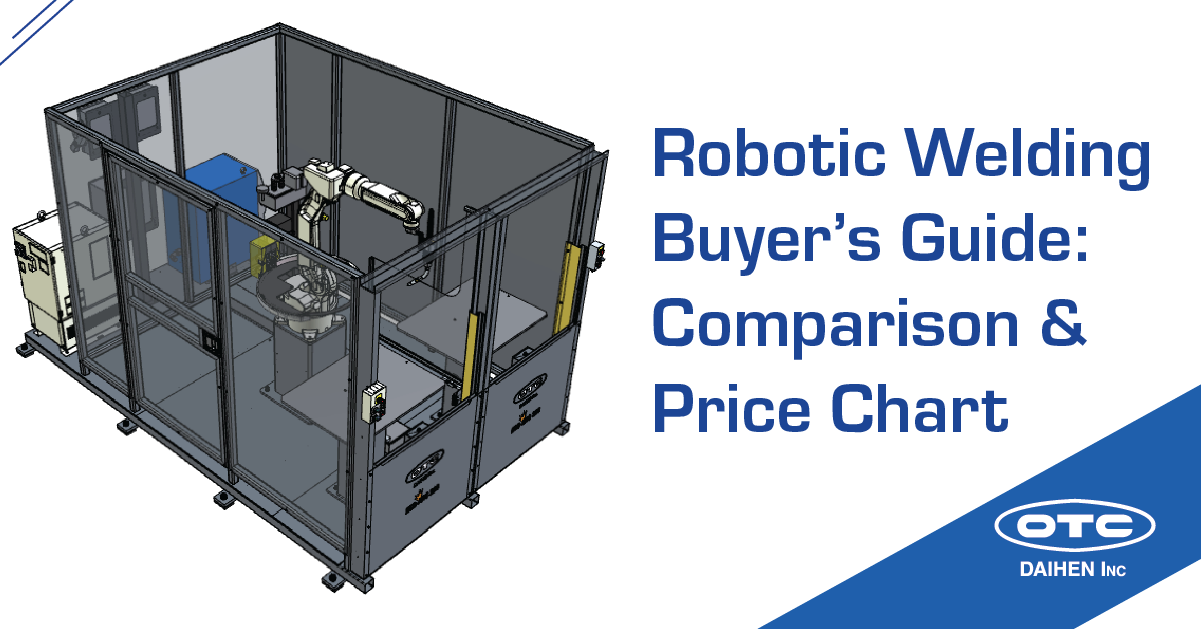 Editor's Note: Updated for 2023.
With a smorgasbord of robotic welder suppliers and a variety of solutions from DIY to fully integrated production lines, the process of finding the ideal robotic welding system for your needs now and into the future can be very, very daunting.
However, the process can be eased when you understand the advantages and differences in models, features and costs. There is a robotic welding solution to fit every size and budget!
Pros of Robotic Welding
An increasing number of companies continue to switch from manual welding to robotic welding. The investment into robotic welding has a proven ROI as it helps manufacturers overcome the labor shortage, demands for faster production and a need for more capacity or advanced skills to fit complex new jobs on the line.
Robotic welding allows you to maximize capacity. A robot can be welding a part while the previous part is being uploaded and new components reloaded, dramatically cutting downtime.
It solves the challenge of finding skilled welders, cuts labor costs and is more efficient. An operator can be running a robotic welder, allowing you to keep your skilled welders (at higher pay) on the parts that demand the skill, flexibility and dexterity of a skilled welder.
Those parts that were taking you all week to weld by hand are now done in two days by a welding robot tended by a machine operator that requires less pay. Before long, you'll be automating more of your weldments or asking your sales team to bid on more welding jobs to fill the capacity of the robot welder!
OTC DAIHEN customer, Pollington Machine Tool, had its first robotic welder working Saturdays in less than 8 months and ordered a second robotic welder. As jobs continued to pour in and production boomed, the company ordered a third robotic welder just six months later!
How to Choose a Robotic Welding System by OTC DAIHEN
Let's dive into each of the OTC DAIHEN robotic series, starting with our newest cell, the ECO-ARC Mini Production Welding Cell.
The ECO-ARC Mini Production Welding Cell
The OTC DAIHEN ECO-ARC Mini Production Welding Cell is a production-ready, OSHA-safety compliant arc welding cell. Compact in size, it includes the world's No. 1 arc welding robot system.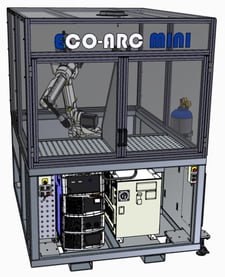 An affordable and easy-to-operate system, it also has the addition of integrated safety and the high-quality welds OTC DAIHEN equipment is known for. The ECO-ARC Mini includes:
One arc-welding robot, FD-V8

Two modular tables supporting uninterrupted production welding

An integrated Welbee II advanced welding power source with wire feeder and torch

Full perimeter safety guarding including OSHA-mandated arc-flash protection and safety interlocked

Access to prevent torch tip wire pinch-point injury during operation

Manual, sliding operator access load/unload doors with safety interlock

Small footprint (7.7'W x 10.5'D)

Rolling caster set supporting portable mobility
The ECO-ARC Series
Our most economical production robotic arc welding system, the ECO-ARC is a 2-station, 2-table configuration.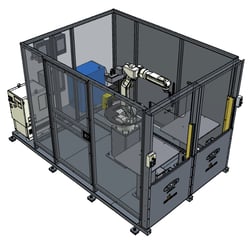 While the operator is unloading the finished weldment and reloading the raw components on table A, the robot is welding on table B. The economy (B) version features fencing that anchors to the floor and a sliding gate system at each station.
The standard version (shown) has everything, including the fence, mounted to a common, unitized base for easy repositioning and transport and features pneumatic pop-up doors at each station. The L (large) version features our long-reach robots and larger weld tables.
Ideal for: The ECO-ARC series is ideal for first-time customers of a production welding robot system. With a simple design, easy setup position and operation and high reliability, the system works best for welding small parts and uncomplex jobs.
Models include: the new compact ECO-ARC 290, ECO-ARC 200B, ECO-ARC 200, ECO-ARC 200LB, ECO-ARC 200L.
The PT-ARC and SERVO-ARC Series
These systems incorporate a two-position turntable that is either pneumatically-actuated (PT) or servo motor-actuated (SERVO).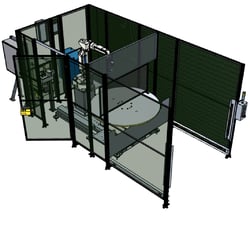 They feature a single operator load/unload point for tending. Available with turntables in either 60" diameter or 72" diameter.
Ideal for: Parts that fit the ECO-ARC series will also fit the PT/SERVO-ARC series. These series have the added advantage of a single load/unload point and overhead clearance for the crane-loading of heavy parts.
Models include: PT-ARC 600, PT-ARC 600B, SERVO-ARC 600, SERVO-ARC 600B, SERVO-ARC 720 and SERVO-ARC 720B.
The DT-ARC
At the beginning of our part-positioning robotic welding cells, the DT-ARC is a 2-station cell featuring a set of headstock/tailstock positioners at each station.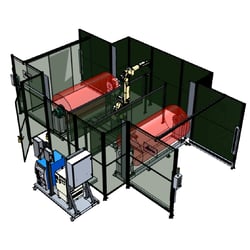 These positioners are capable of spinning the parts around their long axis during welding, supporting the most optimal torch position and angle during welding.
Available in either the 180-degree version (shown) or 120-degree or 90-degree, based on what best meets your needs.
Ideal for: Weldments that require repositioning during the welding process in order to reach all joints with the robot torch and to weld them in the most optimum position are well-served by the DT-ARC series. Typical parts are long, slim requiring complete, circumferential welds or many welds accessing the joints through a picture-frame style of weld fixture.
The ROTA-ARC Series
ROTA-ARC cells feature an "H-frame" positioner that combines the indexing of a PT/SERVO cell and the headstock/tailstock positioning of the DT-ARC cell.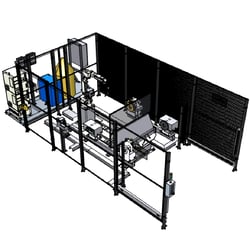 Operator tending is from a single station, and this cell is available in a variety of part payloads to best meet your application needs.
Ideal for: ROTA-ARC parts are those that could be produced on a DT-ARC, but require the added advantage of keeping the operator stationary with the load and unload being performed from a single point.
Models include: ROTA-ARC 250, ROTA-ARC 500 and ROTA-ARC 1000.
The TRI-ARC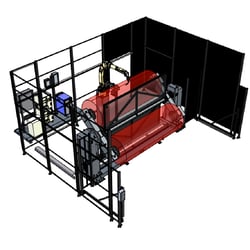 TRI-ARC cells feature a "Ferris wheel" positioner that mimics the functionality of a ROTA-ARC cell but indexes between the A and B stations by pivoting over/under, to reduce the floorspace requirement in your shop.
Typically implemented with multiple robots (2-3) to share the welding load for reduced cycle times.
Ideal for: The TRI-ARC system is for speed junkies whose production demands their welding robot(s) mass-produce weldments at the fastest possible TAKT times. Any parts compatible with the DT-ARC or ROTA-ARC series would experience a production boost with the TRI-ARC welding robot cell.
The LT-ARC
LT-ARC is a catch-all name for any type of production robotic welding cell that has the robot mounted to a slider (robot transport unit, RTU), which operates as the 7th axis of the robot.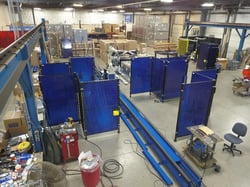 Supporting all manner of welding stations including tables, headstock-tailstock positioners, tilt-rotate positioners and skyhook positioners, these are the "swiss army knife" of production robotic welding cells.
Ideal for: LT-ARC systems can replace "tent cities" of manual welding stations while offering the most flexibility of any other robot welding cells. For those fabricators who don't know what they will be welding next year, let alone next month or next week, the LT-ARC provides the ability to bend to your future welding fabrication needs without breaking.
The ED-ARC
Purpose-built to be the best fit for educational institutions, the OTC DAIHEN ED-ARC 100 is a single station robotic welder with all the capability of a full-size production welding system, distilled down to something with the mobility and flexibility to fit easily into the classroom setting.
Incorporating an FD-H5 table-top robot and a fully capable Welbee welder, this system can also be used for production. Small parts that fit in the 24" x 28.3" workspace can quickly be converted to robotic welding.
OTC DAIHEN - Your One-Stop Solution
First and foremost, get your welding robot from a trusted robotic welding supplier to ensure you get a top-quality solution. It really is all about putting down a quality weld.
At OTC DAIHEN, we are your one-stop shop, which means we produce everything you need - welder, robot, torch, wire feeder and all the know-how to put it together and apply it to your toughest welding challenges. Eliminate the finger-pointing between the robot company, the welder company and the torch company by making it a single-source selection.