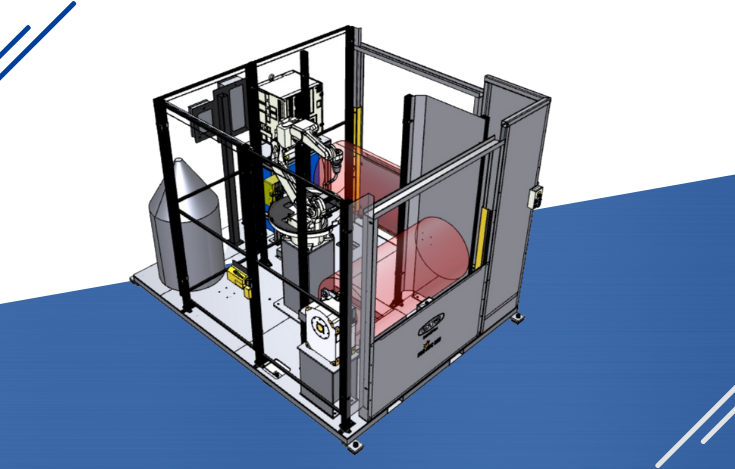 Robotic welding cells are proven to provide accuracy, reliability, versatility and speed for many industrial applications spanning diverse industries.
However, for some fab shop owners and manufacturers practicing lean principles concerns arise around floor space. How much valuable manufacturing space will a robotic welding cell consume? Is this welding cell the most efficient use of that floor space?
The OTC DAIHEN ECO-ARC 290 Compact Robotic Welding Cell
Introducing the new OTC DAIHEN ECO-ARC 290 compact production robotic welding cell. It is a dual servo-controlled, headstock parts positioning cell designed for small to medium-sized parts.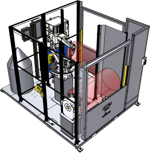 The ECO-ARC 290 includes one arc-welding robot and two servo-controlled headstocks (station 1 and station 2), all on a single base that is easy to move. The two-station configuration allows the operator to prepare work on station 1 while the robot welds on station 2.
At approximately 2,500 kg in weight, its footprint is small compared to most other advanced robotic welding cells.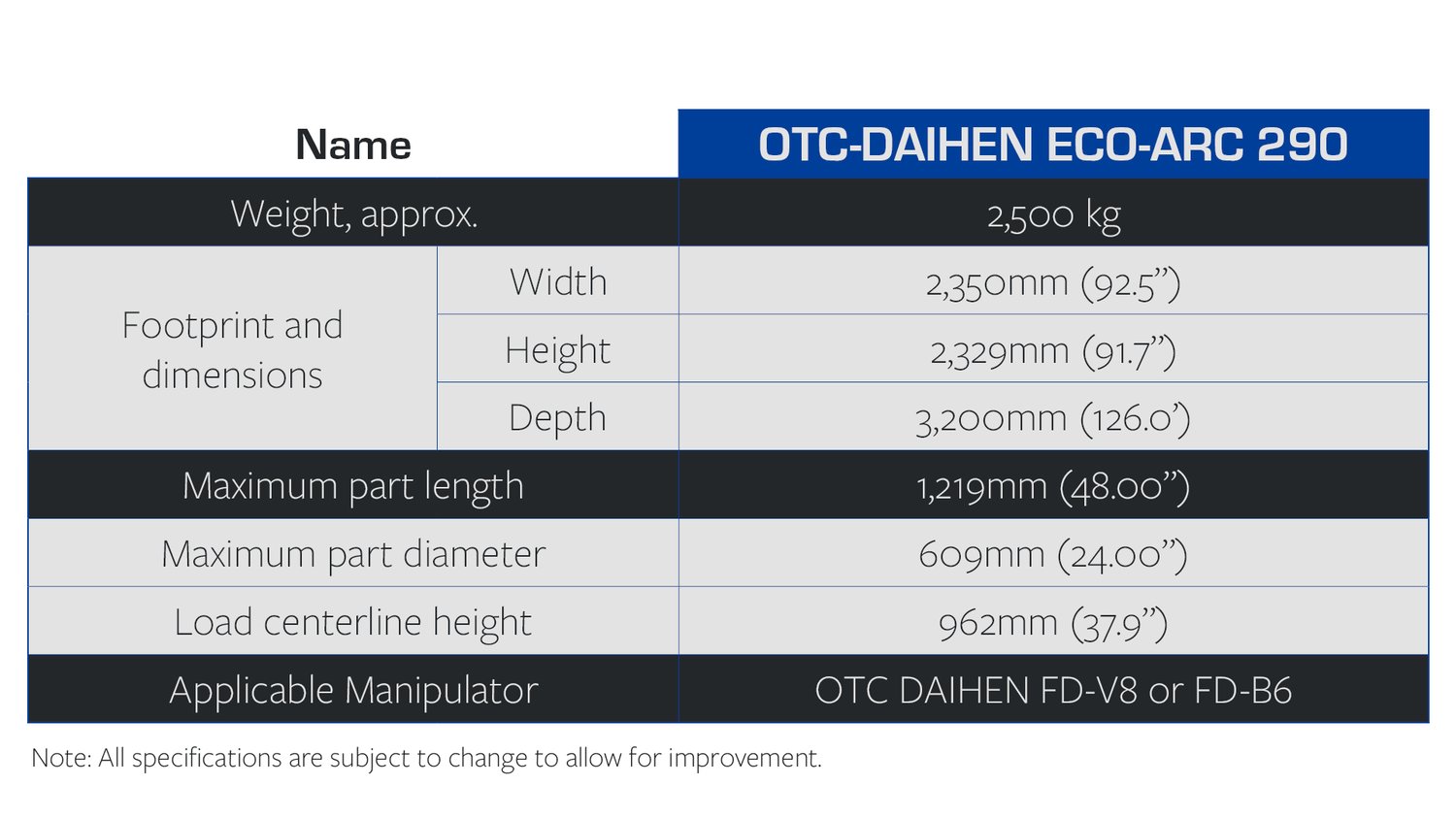 Welding Small to Medium Size Parts
The ECO-ARC 290 is an ideal production welding cell for manufacturers of small- to medium-sized parts, such as automotive parts.
Manufacturers already using or in line for the OTC DAIHEN ECO-ARC 290 include those producing motorcycle exhaust systems, aftermarket bumpers, ATV and SUV parts and more.
Specs and Pricing for the ECO-ARC 290 Compact Robotic Welding Cell
Pricing for the OTC DAIHEN ECO-ARC 290 starts at $165,000.
Price varies based on configuring with the FD-V8 Welding Robot or FD-B6 Welding Robot and the package chosen for the welding power source.
The OTC DAIHEN ECO-ARC 290 includes:
Mechanical configurations:
Two 250kg headstock positioners supporting uninterrupted production robot welding

Part length up to 48" and swing diameter up to 24"

Full perimeter safety guarding including OSHA-mandated arc-flash protection and safety interlocked access

Pop-up, pneumatic operator access load/unload doors

Swing service access door with safety interlock

Welding gas bottle mount with regulator/flow meter included
Small footprint (7.7'W x 10.5'D)
Unitized base with fork pockets for easy pickup and positioning around your fabrication shop
OTC DAIHEN - Your One-Stop Solution
At OTC DAIHEN, we are your one-stop robotic welding supplier. We produce everything you need - welder, robot, torch, wire feeder and all the know-how to put it together and apply it to your toughest welding challenges.
Learn more about our other ECO-ARC solutions and additional robotic welding cells in the OTC DAIHEN Robotic Welding Buyer's Guide.