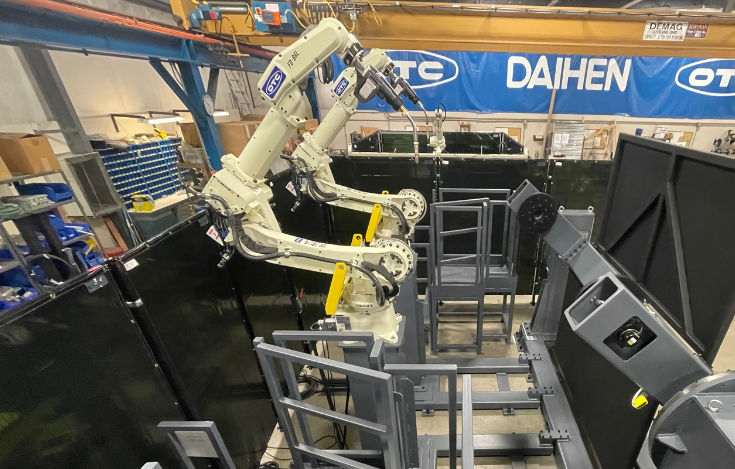 In nearly every manufacturing industry, we're seeing more and more welding automation as demands increase for faster throughput and higher quality while these companies struggle to find skilled welders.
Automation in welding has grown from something only seen in large, high-volume factories to a standard you now find in almost every factory and fab shop, no matter the size. You will see a smorgasbord of robotic welding solutions, from integrated welding robots to pre-engineered robotic welding cells.
Making the Switch from Manual Welding to an Automated Welding Process
After making the decision to invest in robotic welding, the big questions we always get include:
How are we going to train our staff to operate the robots and automation?

Who will help us service and support the automation after installation?

How are we going to justify the costs of automation?
These are great questions that can easily be answered when you find the right partner for your robotic welding needs. To help you get started, here are the recommendations we give our customers for a smooth transition from a manual welding process to an automated welding process.
Prepare Your Staff for Welding Automation
A key step not to miss is to prepare your team for the transition from manual welding to robotic welding. Follow these recommendations to avoid common obstacles often faced by companies adding automation.
Include your entire team of operators, welders and production staff on the decision to automate and the reasons why. Be transparent about the labor shortage in this industry and the need for automation. This is not labor replacement, but labor augmentation.

Identify a team member to champion the project. Oftentimes, this is a welder who will apply his experience and knowledge of robotic welding. You can't take the welder out of robotic welding.

Ensure welding and automation training is included in your investment and planning of this transition. Schedule this during the build phase of your solution so that when the automated welding system is installed, you can begin programming your robot right away.
Service and Support of Your Automated Welding Process
To ensure you are not in this alone, partnering with a robotic welding company is key. Knowing who to contact and the process to follow to meet your needs as quickly as possible is a must. Make sure you have identified these points prior to kicking off your project to automate:
Spare Parts: What should be kept on hand, where are they stocked and who can you purchase them from? At OTC DAIHEN, we will recommend what parts to have in stock to prevent downtime.

Phone Support: Can you easily get ahold of support when needed? At OTC DAIHEN, you have one number to call - 888-OTC-ROBO (888-682-7626).

Our factory-trained expert technicians will help resolve issues with the welding power source, robot, integration and everything in between.

On-Site Support:

How can you get on-site support to troubleshoot and resolve issues or to train your team? At OTC DAIHEN, we have an expert welding support team for emergency and non-emergency situations, on-site field service, preventative maintenance and more.
Justifying the Cost of Automating Your Welding Process
Automating your welding process provides a great opportunity for cost savings in labor, improved quality and consistency, and higher production numbers. Most manufacturers can easily justify the costs of automating a welding process through these benefits.
If you're not sure what type of welding robots or robotic welding system you need, start with an OTC DAIHEN welding cost analysis. Our experts will recommend the best solution and calculate the potential financial gains over a targeted payback period. Request your free welding cost analysis here.