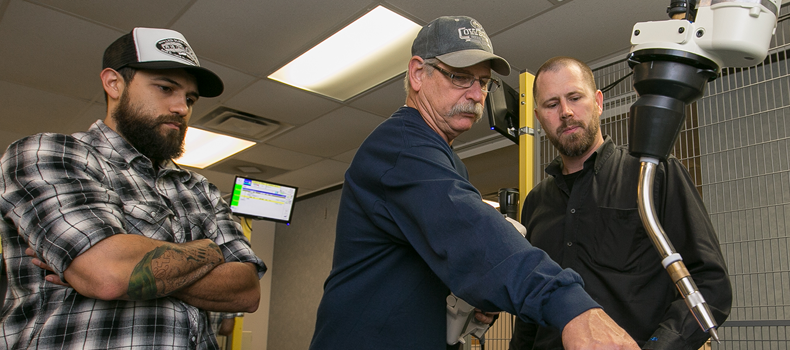 At OTC Daihen, we believe in offering our clients a one-stop shop for all their robotic welding needs. One option that many of our clients are still unaware of is our hands-on robotic training classes in our Tipp City, Ohio location. Can't get to Ohio? Though our clients typically get the best benefit from our well-equipped classroom, we can also bring our certified OTC Daihen technicians to you. Our training program is designed around real world manufacturing processes and can help you be more self-reliant for programming and maintenance issues. Here's a little more about the courses.
Take Welding Robotics to the Next Level with OTC Daihen Training
Basic Robotic Programming: This course starts you at the very beginning, showing you how to properly use the teaching pendant and robot controller. The course provides basic welding robot operations, safety, essential programming skills, testing programs, torch alignment, modification of programs, and the creation and use of arc and weave commands, among other needed skills.
Advanced Robotic Programming: If your people are already able to handle most basic programming functions and need additional training to really get everything out of your robotic welding machines, this course is an excellent next step. It provides instruction on harmonious programming, input and output signal assignment, teaching pendant customization and much more.
FD Basic Robotic Programming: Our FD-series welding robots provide a much wider range of capabilities than many of our other models, and this course focuses on those specific capabilities and how to best take advantage of them for your production line. This four-day course provides a more in-depth look into the programming of this particular series of welding cells.
FD Robotic Maintenance: Need help keeping your production line running? This non-welding course will give your technicians the information they need to provide basic maintenance and repairs of your FD-series robotic welding units. Instead of having down time while your robots are serviced or repaired, have someone on staff ready to go.
AXC/AX21 Robotic Maintenance: Do you need more local maintenance and basic repairs of our common AXC/AX21 series of welding robots? If so, this non-welding course will give your technicians the basics to keep your robots working well and your assembly line in motion.
As you can see, our comprehensive training courses can help you get the expertise you need without the expense of getting one of our technicians on your production line, allowing you to lower your overhead. If you're ready to sign up for one of our courses, please feel free to take a look at the schedule on our training page. At OTC Daihen, we've spent almost a century making sure you have everything you need for industrial welding.