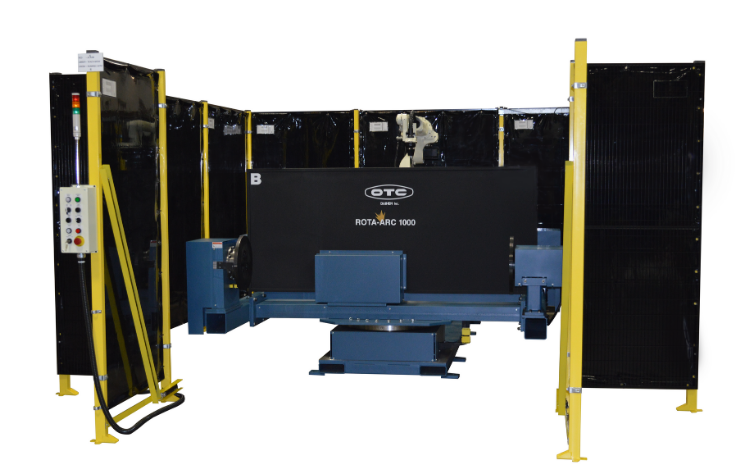 Imagine this: Your company has been producing server racks for years. You've gotten pretty darn good at it, good enough that a multi-billion-dollar company - let's call them Zonama - takes notice.
They approach you to create the racks for their nearby server farm. It's a big contract, and it will require a higher volume of work to complete the orders. But this is a once-in-a-lifetime chance. So what should you do?
Consider that:
It's hard enough to find and keep skilled welders as it is; and
You'd have to hire dozens of them and run additional shifts to complete the work, which you aren't set up to do.
Now is the time that robotic automation systems can be your best friend.
Maybe you've heard about automation and toyed with the idea, not sure if it was right for your business. We've broken down a few of the top misconceptions about automation to help you decide if this option will be viable for you.
Automation Myth #1: It's Too Expensive For Me
Naturally, cost is one of the first questions people ask when they're thinking about robotic automation. And maybe you've heard it would cost you upward of seven figures to do it.
The truth is, automated systems can be customized to fit exactly your needs. You might just need one robotic cell to increase the capacity of your existing welders, or a few. Whatever your needs are, a skilled robotic welding company will do a thorough assessment of your business to make sure you're getting exactly the solutions that make sense
Remember, too, that systems can always be customized to meet your needs - including your specific parts, yearly volume, floor space, and weld specifications. You should be completely happy with the setup of any purchase you make, and it should work exactly how it needs to for your business.
You can also consider these questions to help drill down into the human vs. robot cost analysis.
How much does it cost to hire qualified welder operators, if you can find them?
What additional high-skill or high-value welding could your existing welders tackle if you offloaded the redundant, simple welding tasks onto a robotic welder?
What's the labor cost of your final welded product?
You might have heard the old rule of thumb that only a company with ten or more manual welding arcs should consider automation. Today, that's no longer the case.
Request a welding cost analysis here to see your potential ROI >>
Automation Myth #2: I Have to Run a Huge Volume of Products to Use a System
You might wonder if your part volume, though large to you, would make a robotic system worthwhile. Robotic systems are great for running high volumes of parts, but can also be a great fit for low-volume parts with a high mix and changeover as well.
For many companies, the quality, consistency, and labor savings that robotic welding can produce, even over a few hundred parts, can justify the robot's expense.
You can also justify robotic automation by variety, not just quantity. Systems can hold hundreds or thousands of programs, making switchover simple and cost-effective.
Automation Myth #3: Robotic Welding Won't Produce Good Quality
Everyone knows good welding combines art and science. But robotic welding can do it faster, cheaper, and more efficiently by eliminating potential errors that humans can generate. Speed and consistency mean productivity, one of the key benefits of a robotic welding system.
Each part that comes off a robotic line will be as consistent as the last. That means you can reduce, or in most cases even eliminate, costly rework or finishing and feel good that everything you're producing will meet requirements.
Another benefit of robotic welding is that it will free your human welders to move into projects that demand their skills and reduce the repetitive, part-after-part work they may be doing now. With a combination of humans and robots, you'll create a team to do your best-quality work yet.
Automation Myth #4: Robotic Programming Would Be Too Hard
Programming has become easier over the years, and companies like OTC DAIHEN can set you up with the training you need to do it.
There's no need to hire a specialized programmer if you don't have one; someone who's already a skilled welder can easily apply everything they know about welding to program robots.
Advances like improved displays, icon operation buttons, and touch-screens can make robotic programming intuitive even for non-welder operators.
See all upcoming training courses >>
Still Have Questions?
We have answers. Visit our FAQs page to learn more about robotic systems, OTC DAIHEN, and any other questions you might have.