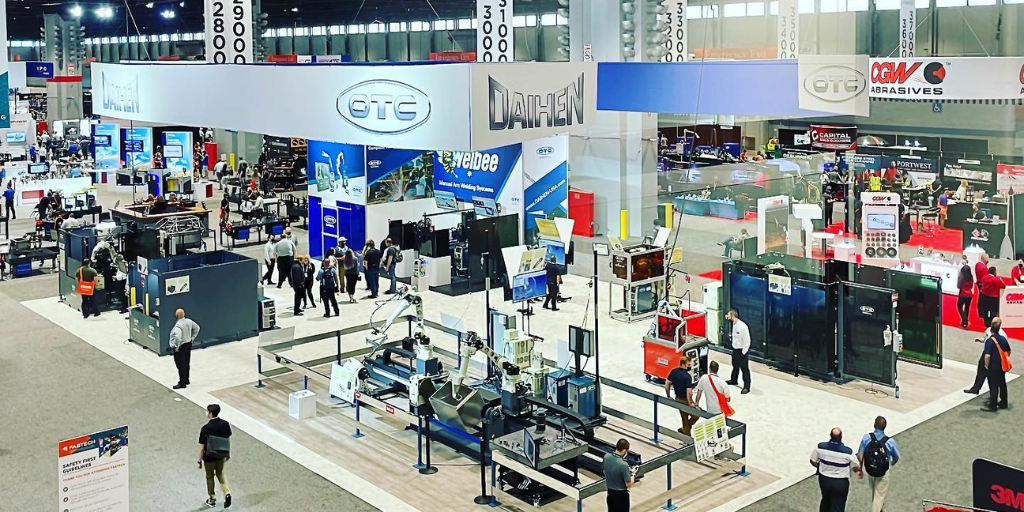 We are excited to announce that several innovative welding technologies will be showcased live in action at FABTECH 2023.
As a trusted leader in robotic and manual welding solutions, we've always been committed to staying at the cutting edge of technology, and this year's demos will be no exception.
Visitors to our booth (B27001) will witness first-hand the next generation of welding technology that maximizes production while reducing manual labor. Visit our booth to see these demos and explore how we can redefine your production capabilities together.
LIVE Welding Technology Demos at FABTECH 2023:

High-Current BuriedD-Arc Transfer Welding - THE FIRST OF ITS KIND
OTC DAIHEN has mastered the challenging process of stabilizing buried arc at a high current by utilizing our Welbee precision waveform control technology – making our BurieD-Arc technology the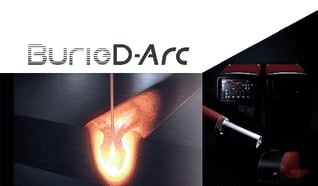 first of its kind.
Our revolutionary technology controls droplet transfer and rotating transfer by repeating low and high-voltage ranges periodically to stabilize both deep penetration and buried-arc space. This high-output, high-performance welding system delivers stable, deep-penetration welding with a high-current buried arc.
Manufacturers are seeing an 85% reduction in passes on single-pass welding up to 19-mm thick steel plate!
3 Meter Long Reach Robot – THE HIGHEST OPERATING SPEED IN ITS CLASS
The OTC DAIHEN all-new 3 Meter Long Reach Robot for material handling and welding applications delivers the highest operating speed and payload in its class.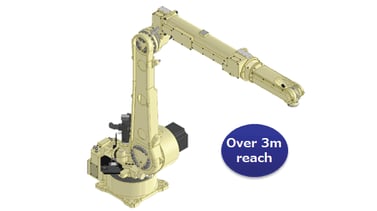 This robot's reach of 3136mm eliminates the need for additional mechanisms such as sliders and inverted framework, increasing efficiency and productivity.
Features include:
3136mm horizontal reach
25kg payload capacity
Multiple feeder mount locations for superior welding wire feed ability
Slim arm design compared to conventional models
Precision Welding Collaborative Robot
OTC DAIHEN introduces the first collaborative robot designed for welding.
The new FD-VC4 Co-Bot is compact, lightweight, safe and offers high trajectory accuracy optimal for arc welding and equivalent to industrial robots. Available in not only CO2 and MAG welding but also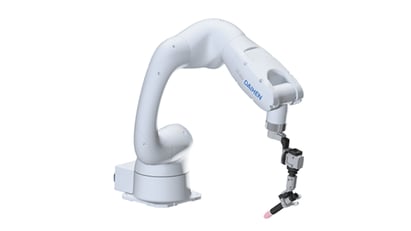 TIG welding and other high-frequency welding processes.
Features include:
High noise resistance for applications where high-frequency noises are generated, such as TIG welding
High durability, dustproof/waterproof performance conforming to IP65 without protection jacket requirement due to strong radiation heat and spatter
Compact and lightweight ready to be mounted on a cart for easy transportation
Elimination of pinch points and corners to relieve pressure during collisions
Color LED status indicator for collaborative mode and playback mode
Complete OP cabling inside the main unit
Plasma Jet TIG Torch - THE TIG THAT BRINGS QUALITY AND EFFICIENCY
The all-new Plasma Jet TIG adds an inner nozzle to the TIG torch that creates high-speed gasflow to concentrate the arc to achieve the highest efficiency and quality in welding.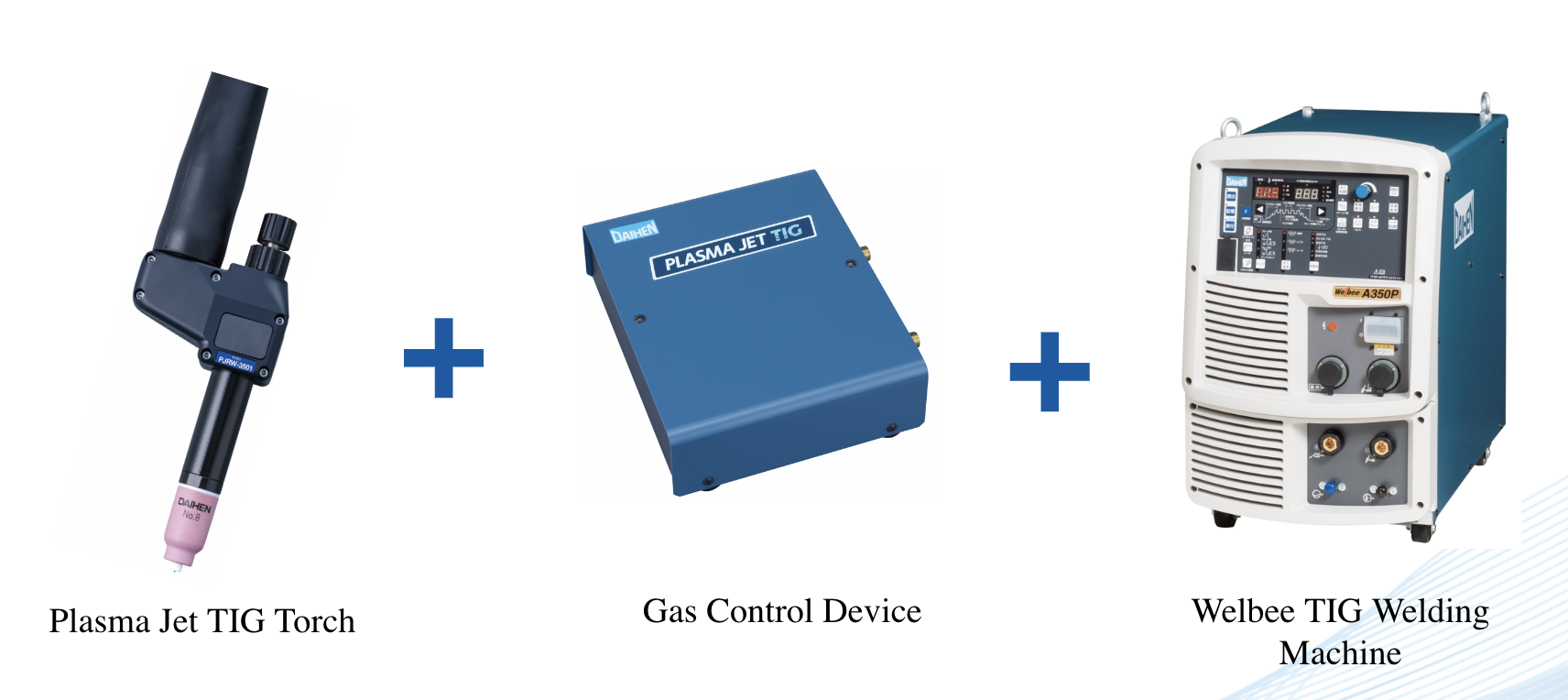 It's proven to:
Achieve up to 2.7 times deeper penetration than other TIG welders, contributing to stronger, higher-quality welds.
Perform at speeds up to 2 times faster than other TIG welders. Forming a molten pool also takes less time, resulting in quicker starts.
Prevent zinc vapor from adhering to the electrode, which stabilizes the weld and extends the life of consumables.
Additionally, the Plasma Jet TIG is versatile in materials and can:
Weld for longer periods of time on galvanized steel plate before the electrodes need to be replaced, resulting in higher production and less cost.
Prevent bead twisting on mild steel, creating longer periods of stable arc, higher quality and higher efficiency.
Reduce weld burning on stainless steel via its concentrated arc that allows for a lower proper current.
Improve arc rigidity and penetration depth (2.7X deeper) when welding on aluminum.
HyperTherm Plasma Power Source – THE POWER SOURCE FOR HIGH DEF PLASMA CUTTING
The HyperTherm Plasma Power Source (XPR) and FD21 connect directly via EtherCAT for a seamless integration to efficiently perform high-definition plasma cutting.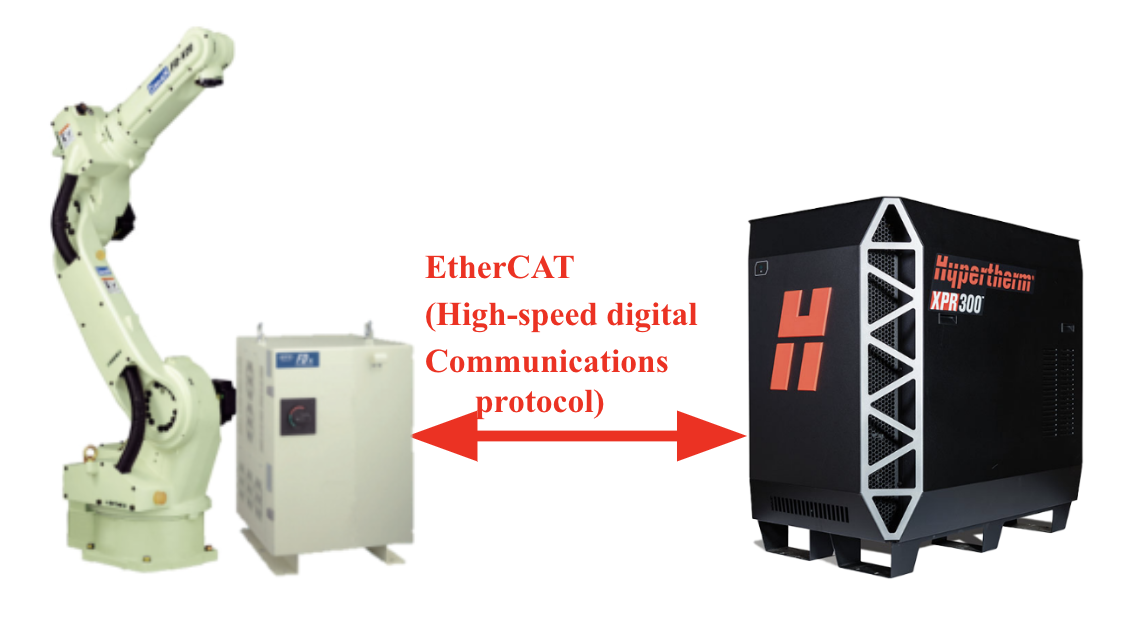 Features of the XPR include:
Can cut from thin plate to thick plate (0.5~80mm)
Supports cutting of mild steel, aluminum and stainless steel
Easy setting of applicable cutting parameters based on material and thickness
Features of the plasma cutting application include:
Dedicated AS and AE instructions for easy setting of cutting conditions
Automatically generates and executes the required operation at the start of plasma to extend torch consumable life and reduce running costs
Advanced torch height control function to reduce cutting defects
See these Welding Technologies LIVE IN ACTION at FABTECH. Vist OTC DAIHEN - Booth B27001.