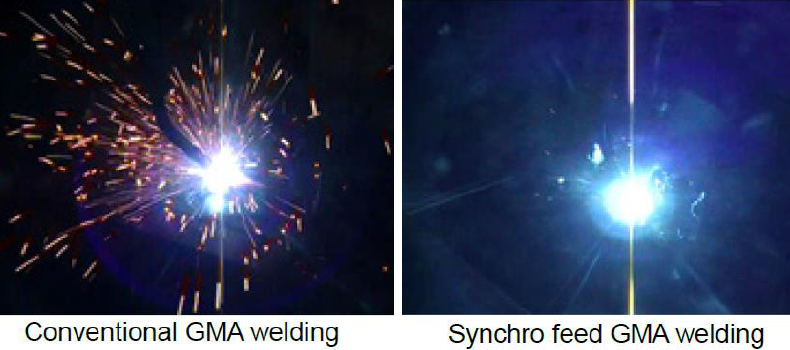 At OTC Daihen, we have spent decades providing cutting edge technology breakthroughs in industrial welding operations. One of our recent developments, which has been seen at several trade shows around the world, is our new synchro-feed welding technology. This innovative new process provides a high quality weld at a high rate of speed, with minimum spatter and clean up required. But many of our clients have had questions about this technology, so we've created this blog post to help you determine whether it is a good match for your production line and welding operations.
High Speed Meets High Quality: Synchro-feed technology overview
What is synchro-feed welding?
Synchro-feed welding is a GMA welding system that produces a high quality, high speed weld with very little, or no post-weld clean up required. It features a servo driven wire feeder on the torch body that advances the welding wire forward to create an arc and then very precisely retracts the wire while synchronizing with a specialized current waveform to create a short circuit transfer with virtually zero weld spatter. This creates a very neat, precise weld laid down at a rate of 24 inches (60 cm) per minute using a .040 inch (1.0 mm) plate and a setting of 90 amps.
What are the advantages of synchro-feed welding?
Synchro-feed welding provides very fast, clean welds at 50-300 amps. At 50-150 amps, this welding form produces very little spatter, with 150-300 amps producing little spatter compared to other GMA welding systems. Because of these qualities, the welds produced are very uniform and are laid down quickly. This allows for faster production while still creating a quality weld with minimal clean up work, making it optimal for busy assembly lines. And of course, being OTC Daihen, we've gone the extra mile to include a revolutionary AC servo wire feed system to improve arc start.
How long will it be before they're in production?
Though you may have seen the machinery at trade shows worldwide, that doesn't mean you'll have to wait ages for this technology to be made available. We already have synchro-feed welding robots in production and available for purchase, minimizing the time you need to wait for this innovative new technology to be installed in your factory floor.
By adding synchro-feed welding to your assembly line, you can quickly realize improved production speed and lower overhead costs, leaving an agile, flexible operation in its wake. If you're interested in finding out how synchro-feed technology can improve your company's bottom line but still have questions or need additional information, please feel free to contact our professionals today for more details. At OTC Daihen, we've been providing cutting edge breakthrough improvements in the industrial welding industry for nearly a century and look forward to serving our clients for years into the future.