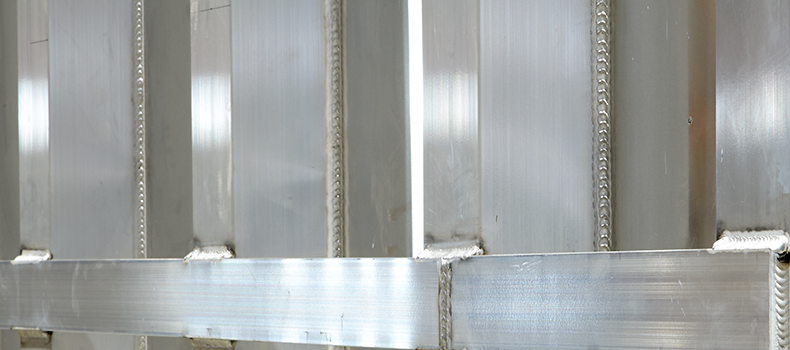 When your operation is dealing with aluminum welding, it can seem as though there's a whole new world of issues to troubleshoot. Porosity, oxidation, weld cracking, wire burn-backs and many more issues tend to plague production lines around the world. One common concern is whether a push-pull gun or a push gun works best when welding aluminum. In this piece, we'll take a solid look at what the advantages and disadvantages are of each type of gun and how to best incorporate them into your production line.
Push-Pull Guns
For many in the aluminum welding industry, the push-pull gun has become an excellent tool for extended reach needs. Utilizing a wire feeder near the wire source and a small feed motor in the gun allows extended reach welding up to 50 feet. This allows great maneuverability in and around large structures, albeit with a bit heavier gun. When welding in close proximity to the wire source the longer gun cables could cause a tripping hazard, or become tangled in the work place if not organized well. It's worth a little research beforehand to consider these points and others like operator ergonomics, including conventional style handles or pistol grip and the gun weight. Other considerations should be high durability to avoid down time, initial cost and running cost ROI.
Push Guns
So what is the problem with using a push gun for aluminum?
Smaller wire diameters, or wire that is not sufficiently stiff can buckle and cause feed problems. An extreme analogy used in the welding industry is… "Like pushing a wet noodle". However some equipment manufacturers provide specially designed high quality push style guns dedicated for welding aluminum up to 13 feet from the wire feed source, as well as offering extended reach systems. Several options are available from manufacturers to mobilize or extend the reach of push style guns including wire feeder casters, wire feeder booms, track mounting, all-inclusive carts, and more. In addition, the initial equipment cost and maintenance cost compared to push-pull systems is substantially less.
By keeping these differences, advantages and disadvantages in mind when selecting a gun for your industrial aluminum welding operation you can ensure that you'll get great results and a more efficient operation. If you still have questions or need help selecting the right gun for your welding machines, please feel free to contact our technical experts. At OTC Daihen, we've spent nearly a century committed to providing our clients with exceptional welding technology.